Did you know that Adobe's Phil Ydens, Fellow and VP of Adobe Document Cloud, estimates that there are 2.5 trillion PDF documents floating around on the internet? Almost none of them are accessible documents, so a lot of people with disabilities are left out of the message. Accessible documents are a compliance essential for all organizations.
Document and PDF accessibility play a pivotal role in providing people with disabilities equal access to information. However, organizations often face challenges when it comes to creating accessible documents without compromising brand identity standards and other organizational policies. 
UserWay for MS Office is a groundbreaking solution that addresses these concerns in real time, empowering users to enhance document and PDF accessibility while maintaining brand integrity. 
Everyone who writes documents with Office benefits from using the fool-proof Accessibility Wizard in UserWay for MS Office. CPAs, lawyers, administrative assistants, teachers, procurement workers, marketers, industrial engineers, technical writers, regulators, compliance professionals, and more have found success. By remediating documents internally, all information is secured and does not go outside the organization before it is remediated, so you're only sending out accessible materials.
In this article we will explore the importance of document accessibility and how UserWay for MS Office solves the challenges organizations face in achieving it.
Document Accessibility is a Highly Technical Discipline
The biggest challenge to document accessibility is most people don't understand how to do it. Spending hours and hours learning and remediating PDFs is often put upon one person or a handful of people. The International Association of Accessibility Professionals (IAAP) even has a robust certification for Accessible Document Specialists.
UserWay for MS Office simplifies creating accessible documents so people at every skill level can do it. The built-in wizard guides document writers through each section to ensure compliance with accessibility standards and laws, such as WCAG, PDF/UA, and the ADA. The tool ensures that PDFs retain their accessibility features when exported from Office, preserving accessibility compliance. 
Lengthy documents
User guides, contracts, business reports, and other lengthy documents are especially challenging to create accessibly. There are often numerous images that require alternative text and complex tables that are extremely difficult to make accessible manually.
For example, an organization's Annual Report typically includes a combination of text, images or infographics, and tables of financial data. 
Rather than creating an original document that is inaccessible that then must be remediated by a different team or contracted partner at significant costs to time and budget, UserWay for Office empowers the original document creator–who is closest to the material–can run the Accessibility Wizard to make the adjustments on their own before generating an accessible PDF.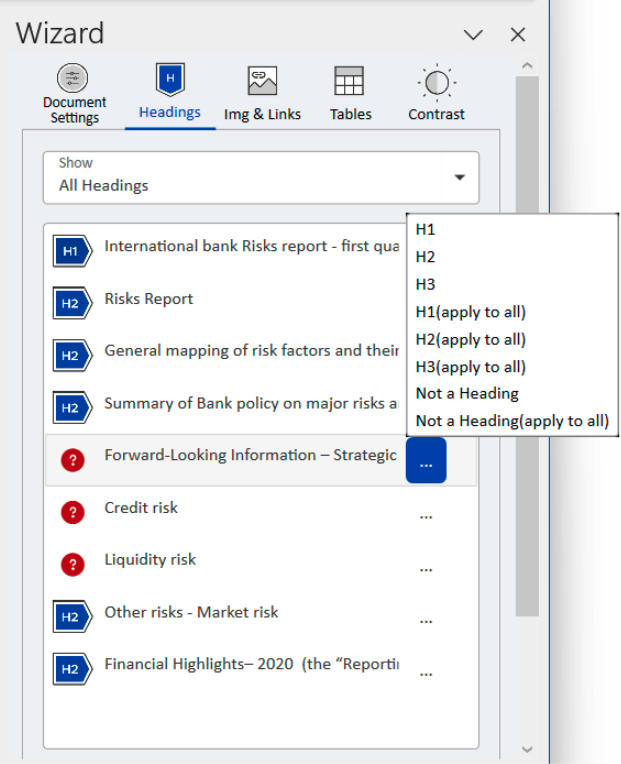 Enforce Organizational Policies and Standards
Do you have trouble getting people to use your brand guidelines across the organization? You're not alone. Evolving brands have different colors, fonts, and style policies that can be hard for both creators to remember and for organizations to enforce. 
UserWay for Office provides an avenue to set and enforce these organizational policies. One policy we like to point out is how to handle acronyms. In order to simplify language for all audiences, it's best practice for accessibility to avoid acronyms. So, for example, you can check for all items abbreviated as "UN" to be changed to "United Nations." By implementing this policy at the document level, it's easy to ensure consistent conformance across all documents created in the organization.
Conclusion 
So, if you're tired of wrestling with document and PDF accessibility, it's time to empower your organization with UserWay for Office. Its user-friendly interface and standardized procedures make accessible documents and PDFs within reach of everyone in your organization. Get ready to unlock the full potential of document and PDF accessibility, creating a more inclusive environment for all.
Common FAQs
What is the Main Purpose of
Accessible Documents
?
This is a recap, but it's worth repeating: accessible documents provide all textual and graphical content in a way that everyone—including people with disabilities—can access and understand. They also interact seamlessly with assistive technologies used by people with disabilities to access that information.
What Four Main Elements Comprise Accessible Documents?
Scannable: People can quickly scan documents and locate relevant info.

Searchable: Users can rely on digital devices for keyword searches. 

Legible: Sighted readers can physically read the text.

Readable: People can easily comprehend a document's content. 
What Are The Best Document Formats for Accessibility? 
Plain text, MS Word/Excel/PowerPoint, and PDF formats are the most frequently used document formats for optimal accessibility.