UserWay Helps
a Fortune 1000
Company Become
Accessible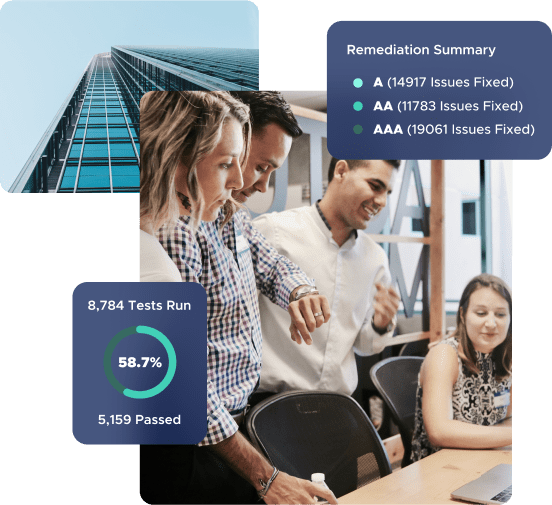 INDUSTRY

Domain name registration

CHALLENGE

To ensure ADA compliance for website pages to reduce the risk of litigation.

SOLUTION

Install the UserWay AI-powered Website Accessibility Solution

RESULTS

A 97% remediation success rate for code-level violations on day one; 83% of web pages are now ADA-compliant.
Client Background
The client is a leading domain registration company and a member of the Fortune 1000. Its clients include individuals and companies of all sizes, and its high-budget advertising campaigns have led to its rise as a household brand name.
The company also donates more than $1 million dollars to multiple charities annually. It has thousands of employees working in offices around the world, which includes a robust team of web developers for its growing list of products and services.
An initial accessibility audit that UserWay performed for the client as part of the project kick off revealed thousands of accessibility violations.
The Challenge
Quick ADA Compliance
The company faced lawsuits and possible litigation as a result of glaring accessibility and ADA compliance issues. A purely manual effort to remediate these issues would have been prohibitive from both a time and cost perspective. They needed an automated solution that could scan their sites for accessibility issues.

The organization's development team needed to understand how to make the existing pages on all of the sites accessible and ensure new pages and content continued to meet the same standards. It also needed a way to test site changes with a focus group of people with disabilities before releasing major updates. The organization needed to quickly make substantial accessibility improvements to all of its websites.

In addition, the organization wanted to offer its clients a way to improve accessibility on theirs as well. It needed a simple process that wouldn't require its clients to perform extensive code changes.
The Solution
Comprehensive
Real-time Issue Identification and Remediation
The UserWay AI-Powered Website Accessibility Solution was rapidly integrated into the company's existing web properties for a 97% remediation success rate that was effective across all code-level violations on day one. UserWay's real-time scanning and monitoring service also brought more accessibility tools to the client's in-house development team.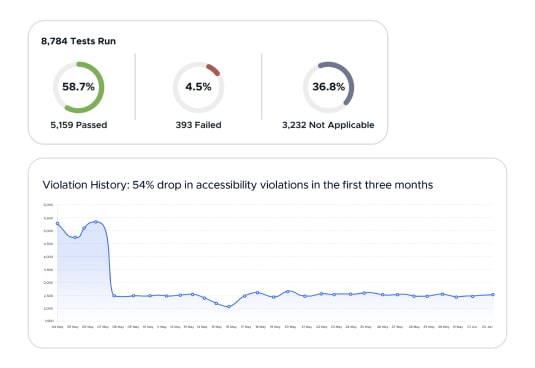 Compliant
ADA Compliance
Detailed reporting and code breakdowns show where on-page violations can be found, provide remediation suggestions, display what WCAG guidelines are currently being violated, and offer CI/CD integration to issue tickets to other scrum team members. Approximately 83% of the organization's web pages are fully accessible and compliant now, while its risk from lawsuits based on ADA violations has dropped significantly
Transformative
A Total Shift Towards Accessibility
Using the entire suite of services and solutions that UserWay offers, our client was able to fully transform its entire organization from being non-compliant to one filled with educated, equipped, and empowered accessibility advocates. The client has also been working to remediate its existing code to make it compliant before releasing a major product update.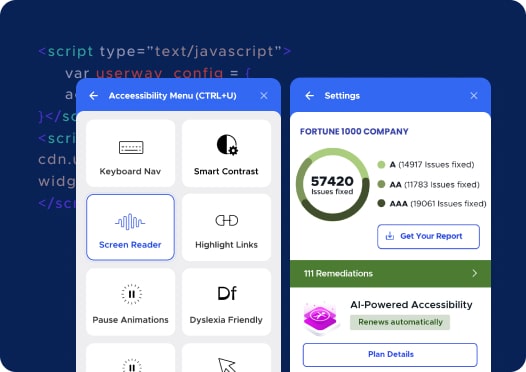 Reduced Workload,
Reduces TCO